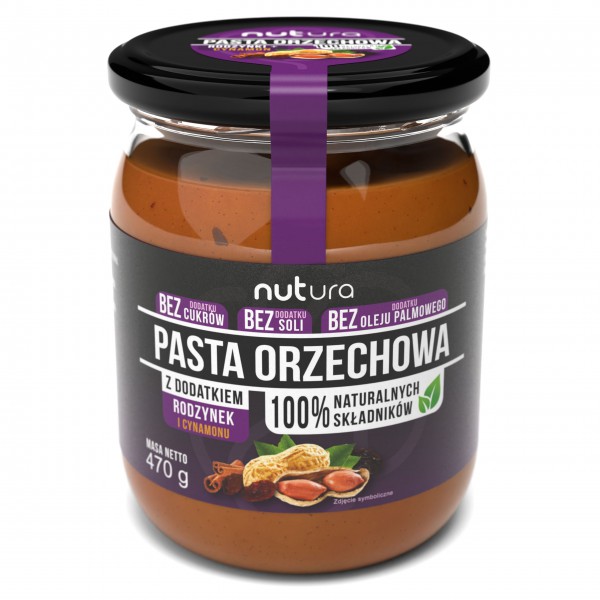 Peanut butter with raisins and cinnamon
Information
This peanut butter with raisins and cinnamon is intended for those who lead a healthy lifestyle. This high quality product is made by combining Argentinian peanuts with unsulphured (not treated with sulphur as a preservative) raisins and ground cinnamon.
In contrast to raisins treated with sulphur which lose some of their nutritional value, and which can induce headaches, nausea, and shortness breath among asthma sufferers and other sensitive individuals, the raisins which we use are healthy and easily digestible. Raisins also give our nut butter an exceptional flavour and aroma, apart from being a source of antioxidants which help prevent cardiovascular disease. 
Does not contain added salt, sugar or palm oil.
Our peanut butter is an excellent addition to sweet dishes and desserts, while also tasting great on its own, as a healthy alternative to sweets.
The nutrients, vitamins, unsaturated fatty acids, fibre and high protein content are a great part of a healthy, balanced diet.
Ingredients:
roasted peanuts (88.25%),
raisins (11%)
cinnamon (0.75%)
May contain other nuts and sesame.
Net weight: 470 g
Data sheet
Nutritional value: 100 g

Energy value: 2298 kJ / 549 kcal

Protein: 23 g

Carbohydrates (including sugars): 19,2 g (12,1 g)

Fat (including saturated fatty acids): 40,6 g (5,4 g)

Fibre: 7,2 g

Salt: 0,02 g