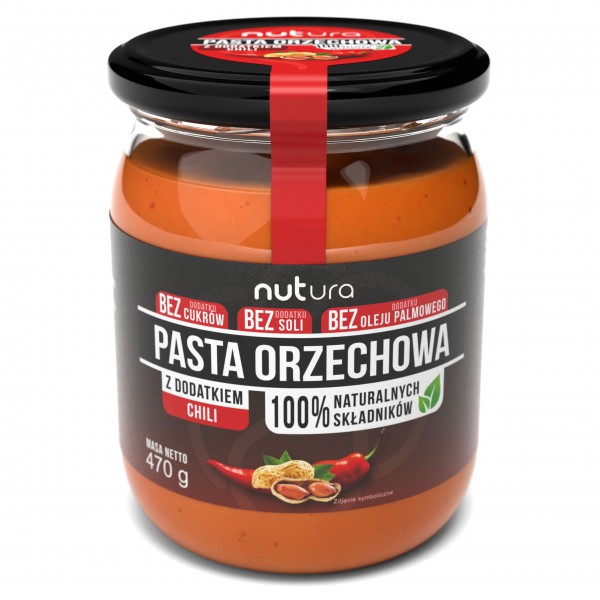 Peanut butter with chilli
Information
Our peanut butter with chilli is made with a blend of carefully selected Argentinian peanuts and coarsely ground Korean gochugara chilli flakes which give it an amazing, one-of-a-kind sweet-and-hot flavour and a characteristic reddish tint.
It is intended for those who enjoy spicy foods.
Gochugaru chilli is made by drying flakes of Korean chilli peppers.  The organic chemical compound, capsaicin, which occurs naturally in these chilli peppers is believed to be an effective aid in the fighting cancer, while also boasting slimming, anti-inflammatory, antibacterial, and pain-killing properties.
Peanut butter with chilli is perfect for savoury dishes thanks to its sweet-and-hot taste, and is also a great part of a healthy diet.
Does not contain added salt, sugar or palm oil.
Ingredients:
roasted peanuts (96%),
chilli (4%)
May contain other nuts and sesame.
Net weight: 470 g
Data sheet
Nutritional value: 100 g

Energy value: 2419 kj / 576 kcal

Protein: 25,4 g

Carbohydrates (including sugars): 13,5 g (7,4 g)

Fat (including saturated fatty acids): 42 g (6,1 g)

Fibre: 9,8 g

Salt: < 0,01 g